How to start training for your first triathlon race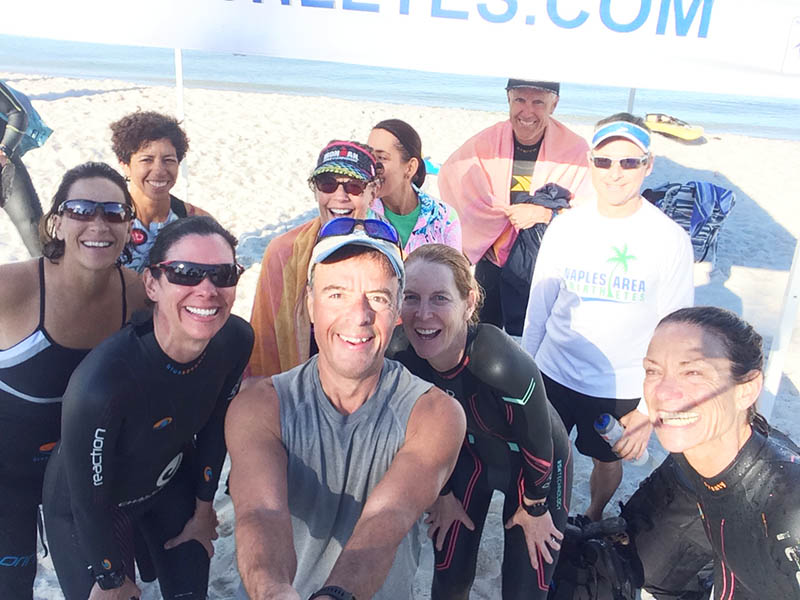 Are you looking to participate in your first triathlon? Maybe you have done a few triathlon races and are looking for a little more guidance and training?
Group training can be a great way to train with other people in a safe, friendly environment. You will meet and train with others with the same goals. This can help get you to the start line with more confidence, plus, you will see friendly faces at your race. This can help those pre-race jitters.
In Naples Florida, we have several options to join group training for triathlon training.
Leapfrog Athletes
Leapfrog Athletes has an 8 week triathlon clinic starting March 30, 2019. This program will cover all aspects of triathlon racing, from open water swimming to biking and running, as well as transition practice. All levels of participants are welcome to join. A lot of this training will be performed on the Naples Fitness Challenge course. This can really give you an edge over other participants. You can find out more about this program here: https://www.leapfrogathletics.com/
Why Not Tri
Why Not Tri is the company who is responsible for the Naples Fitness Challenge. They have a triathlon race clinic starting on April 4, 2019, and continues until May 25, 2019. These clinics are held on the race site. You can do all of the clinics or you can drop into the ones that focus on your weakness. You can find out more about these clinics, and dates here:http://www.thefitnesschallengetriathlon.com/clinics.html
We hope you take your first step into this amazing world of triathlon racing. These race clinics are the first step to a great race finish. Make sure you check out our calendar of events for free weekly training events. We would love to meet you and welcome you into our club. Also, check out photos from last year's Naples Fitness Challenge here.
Please contact us for more information including our new mentor program: